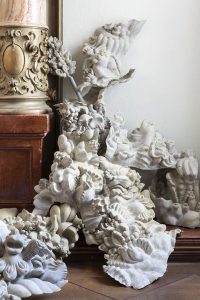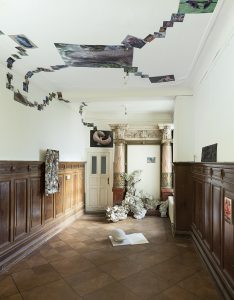 Squishy 2017 Installation Epoxidharz Stahl Papier ca 300 x 200 x 150cm
SQUISHY  eels swim in snakey curated by Àngels Miralda 2017 Juliusstrasse, Berlin
http://angelsmiralda.com/Squishy-Eels-Swim-in-Snakey
http://www.sleek-mag.com/2017/12/20/best-berlin-art-shows-2017/
Débora Delmar Corp, Ittah Yoda, Joey Holder, Sachin Kaeley, Miriam Lenk, Selou Sowe
Sliding Reptilian Body. Contact lubricated by water. Slow eel ripples the surface in brown
vegetal broth. Strange forms and cumuli accurately accumulate. Consistency of a cloud.
Lumpen fungal lumps floating like a lake. Suspended in air and growing outwards from a
stalk. Slime, green growth gliding. Thick with water, air hangs droopy. 
Inhabitants of swamps: the alligator, the bald eagle, and the common egret.
The Capybara and the Anaconda and the Copepod.
Fotos: Saverio Tonoli Adamo