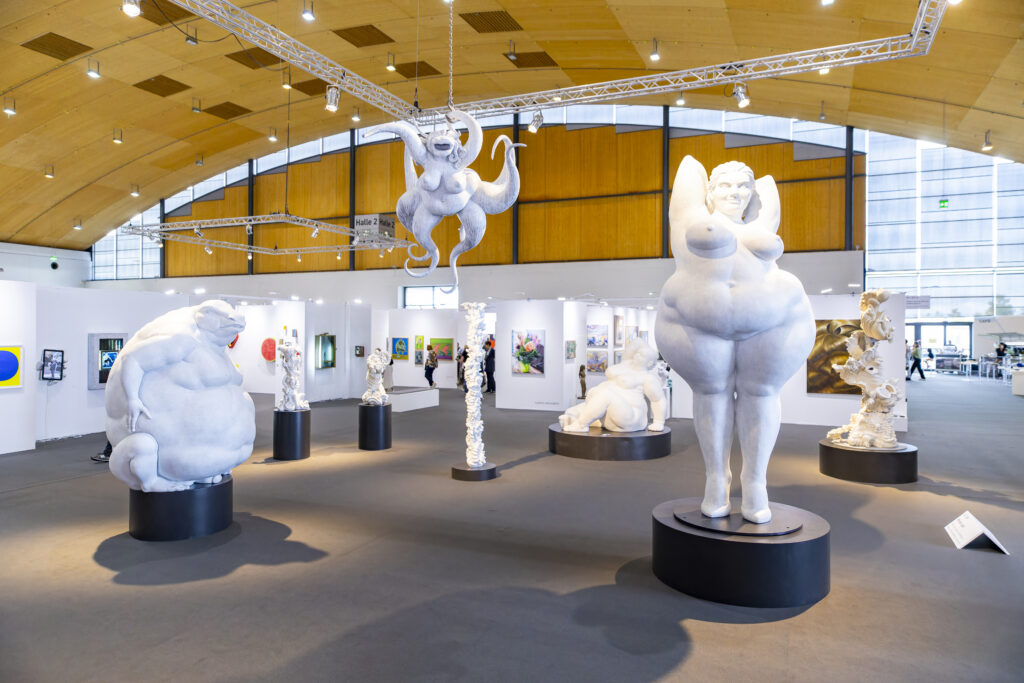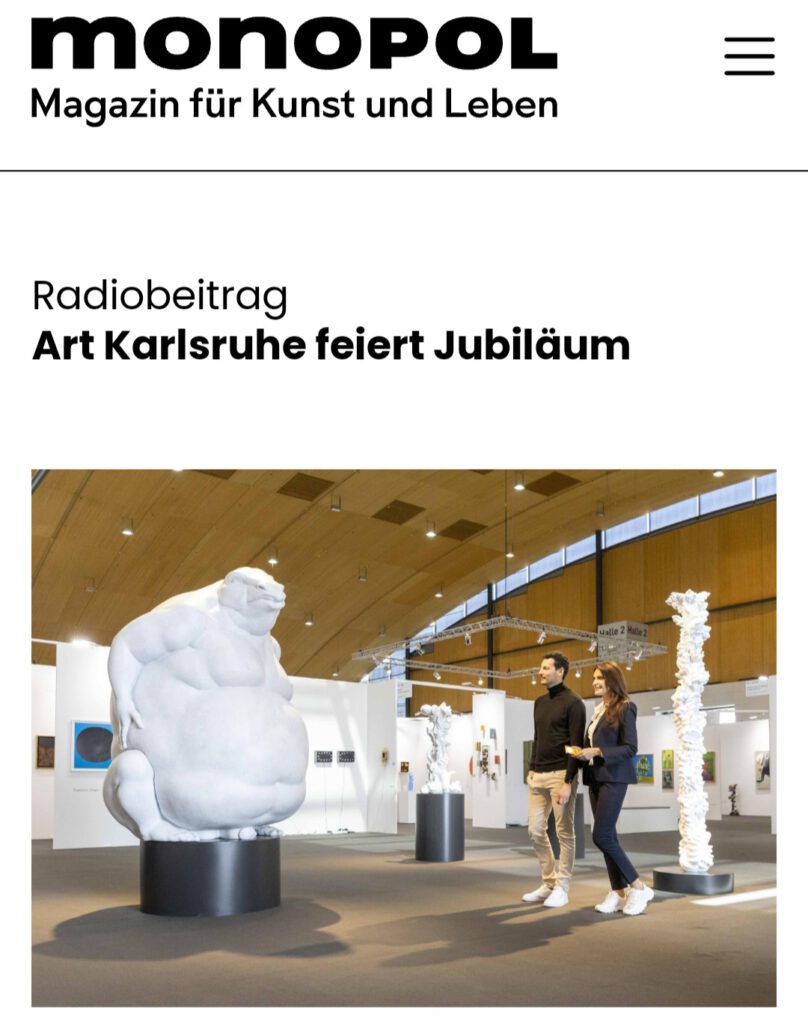 Finissage point of view(s)- view and direction
in the municipal gallery Schloss Biesdorf, Berlin
on Friday, June 9 from 18.00 h
Works by Clemens Behr, Yvon Chabrowski, Margret Eicher, Andreas Fasbender, Jürgen Gerhard,Thomas Heidolph, Isabel Kerkermeier,
Mischa Leinkauf, Miriam Lenk, Michael H. Rohde, Bodo Rott, Hansjörg Schneider, Julia Ziegler and Rolf Xago Schröder 
The exhibition "Point of view(s) - View and Direction" shows diverse views in eleven contemporary artistic positions,
points of view, perspectives, and lines of vision - both in aesthetic as well as in socio-political respects.
Curated by Katia Hermann and Karin Scheel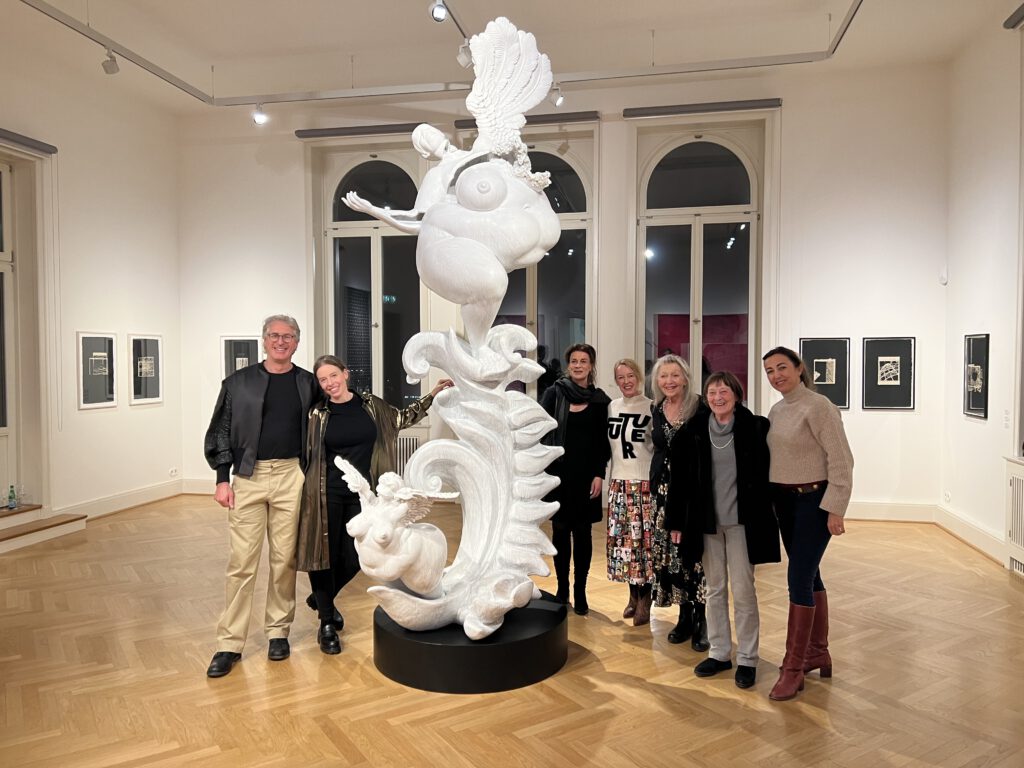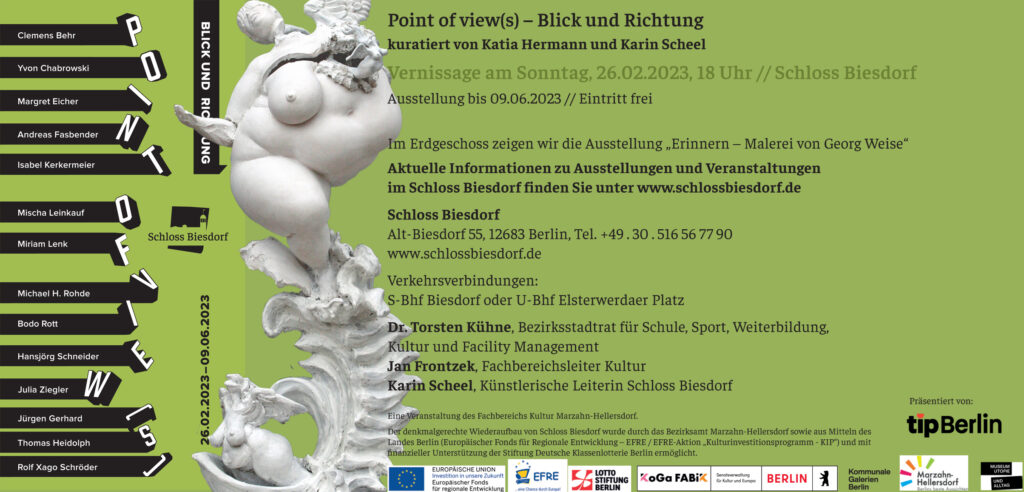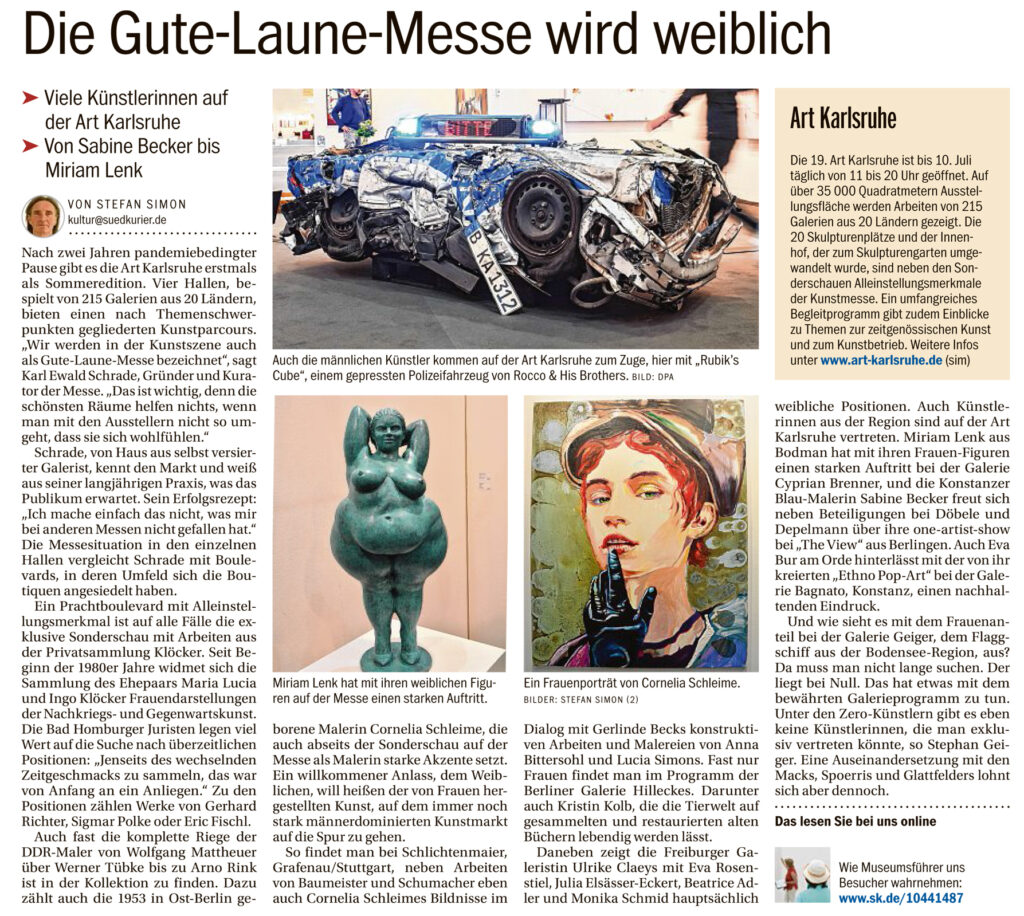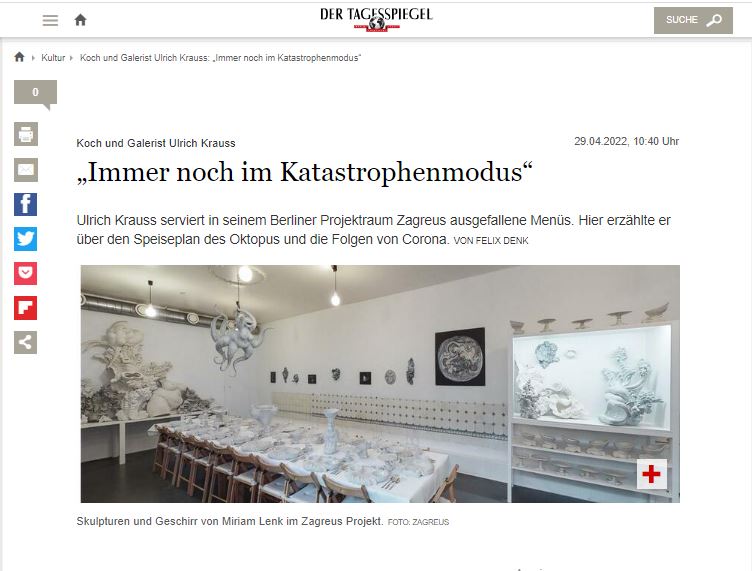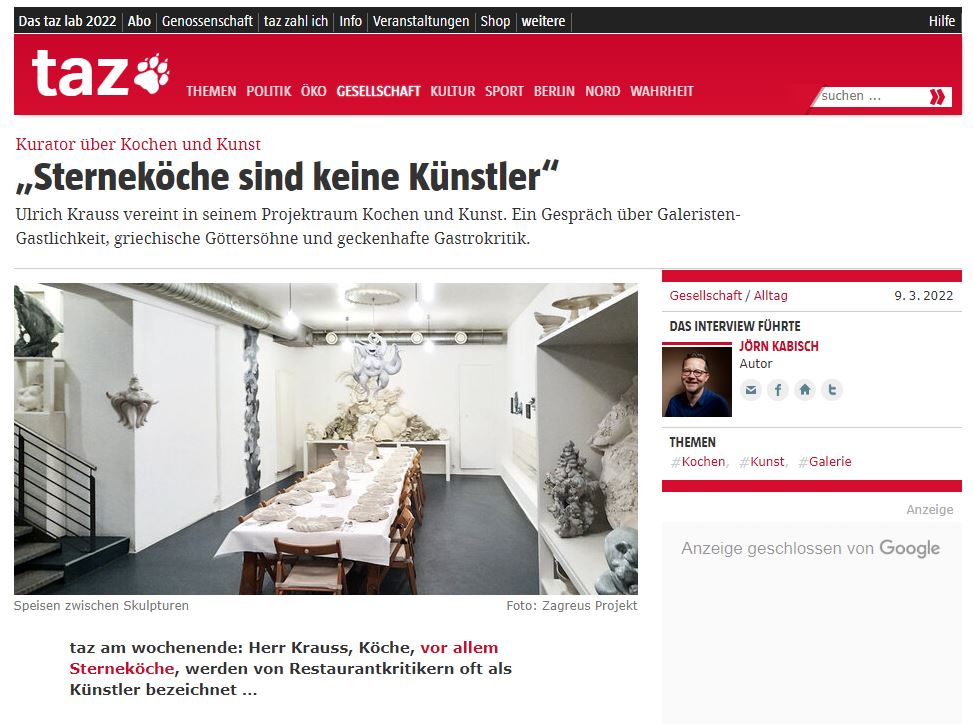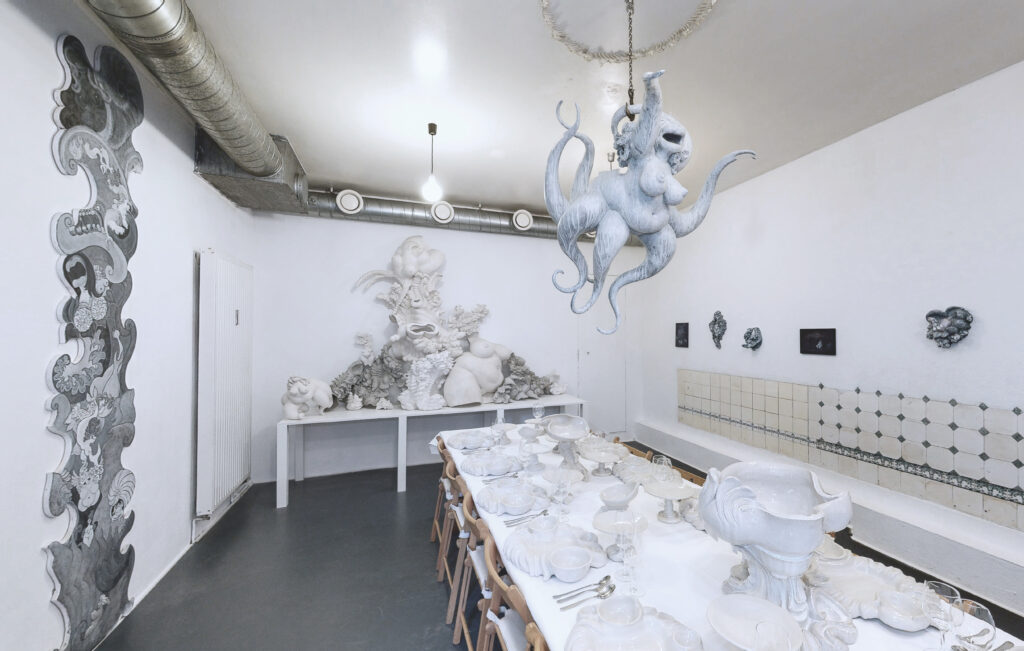 In "Meerschaum-Gewoge" the gallery was transformed into a mixture of coral reef and baroque cave. The front wall of the room
was dominated by an altar-like installation and from the ceiling Octopussy floated above the table. There it continued to sway
in the form of baroque plates and goblets, ceramics by the artist, which seemed to have broken free from her sculptures.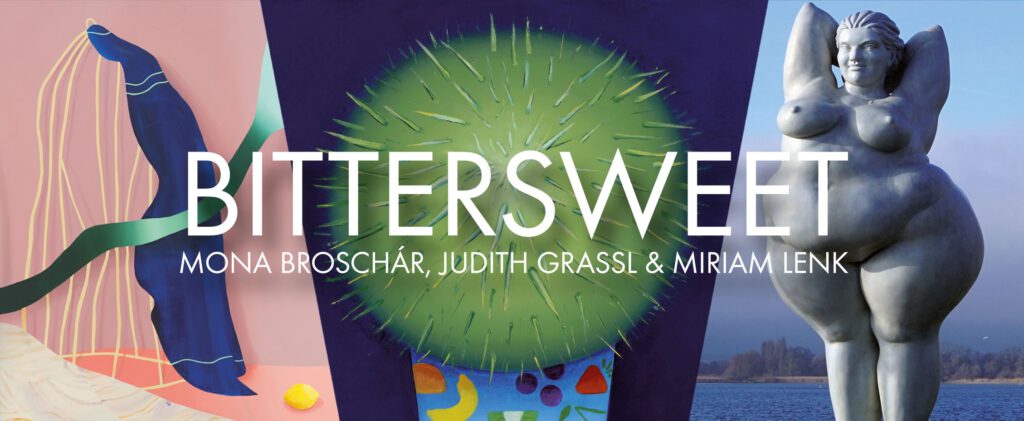 Bittersweet
Gallery Cyprian Brenner, Auweg 6, 73460 Niederalfingen 27 March- 22 May
The exhibition BITTERSWEET shows works by the artists Mona Broschár, Judith Grassl and Miriam Lenk.
The exhibition focuses on their artistic exploration of themes such as femininity, corporeality, desire,
but also with transience.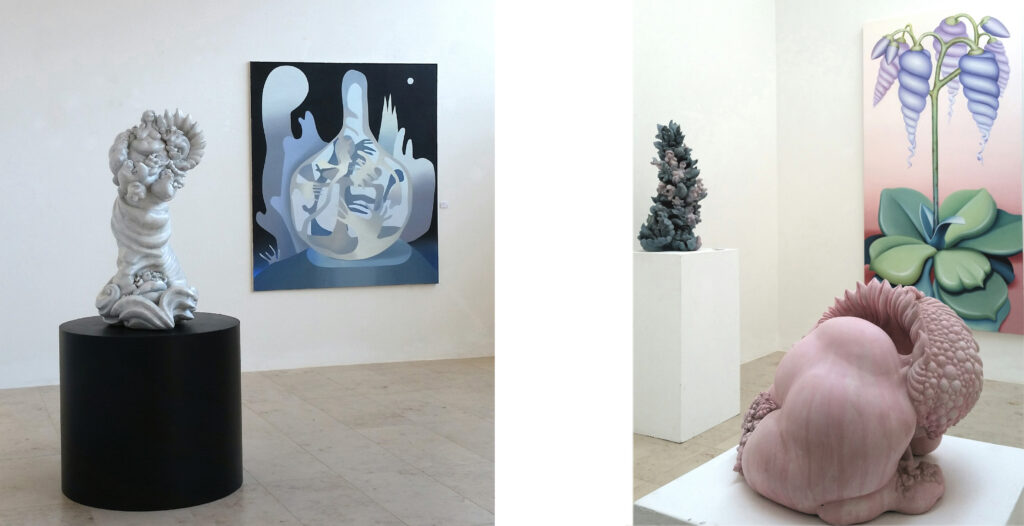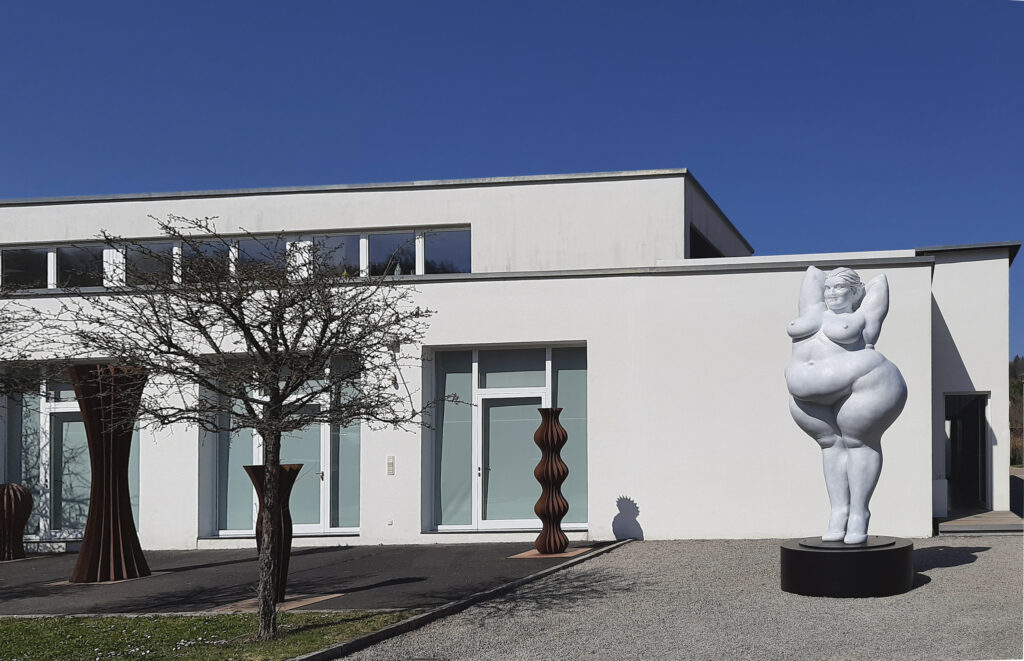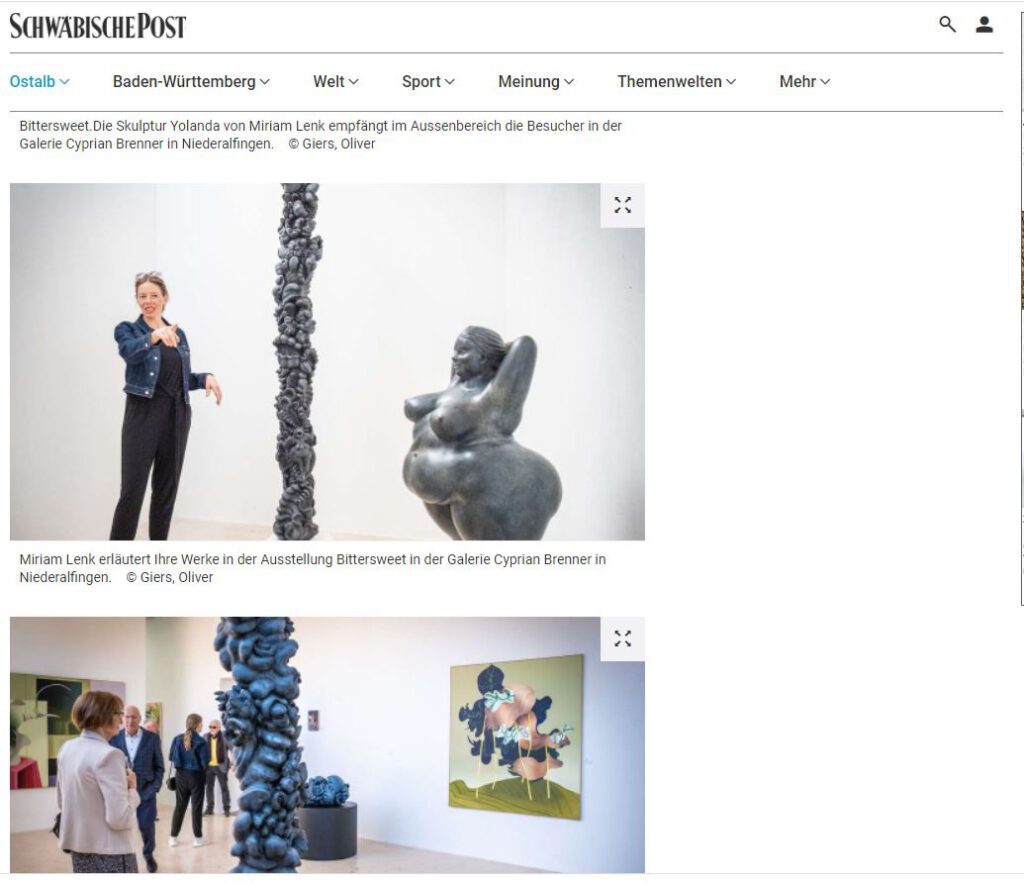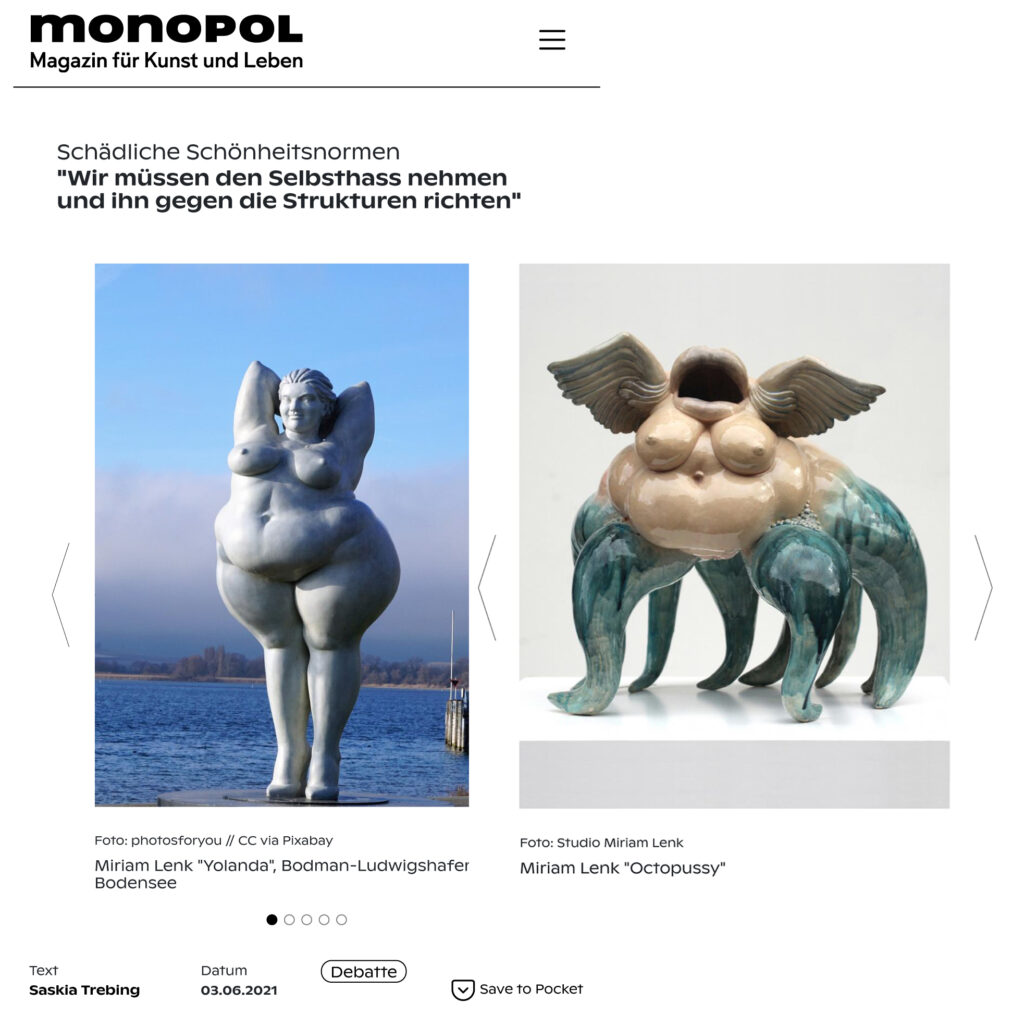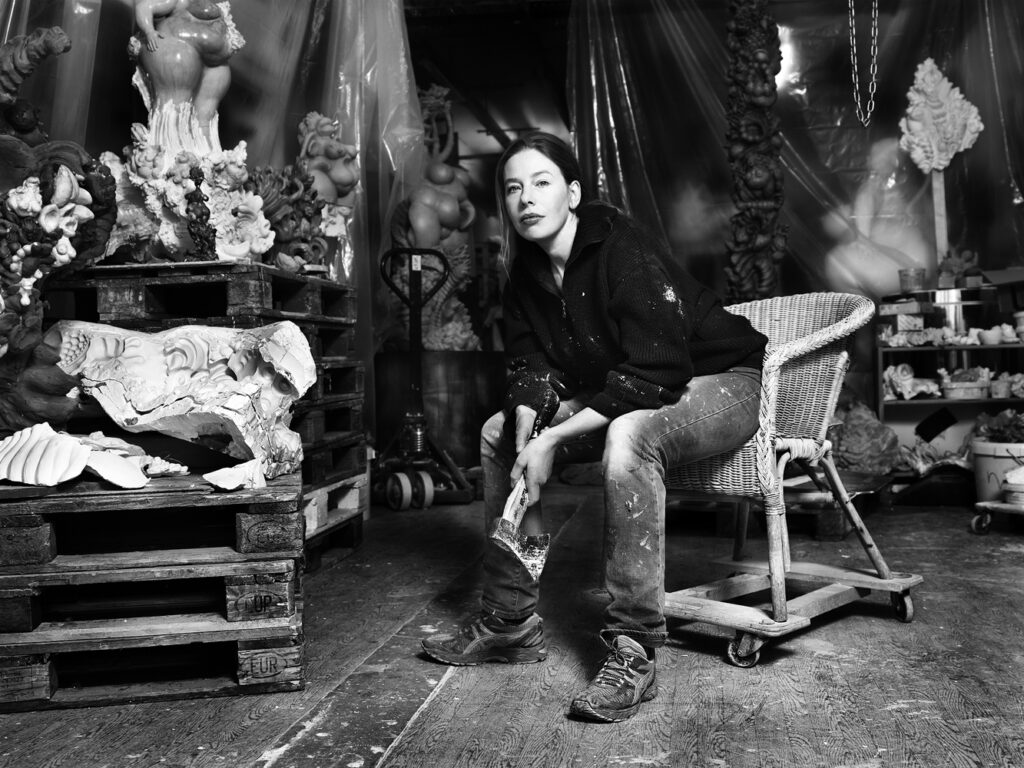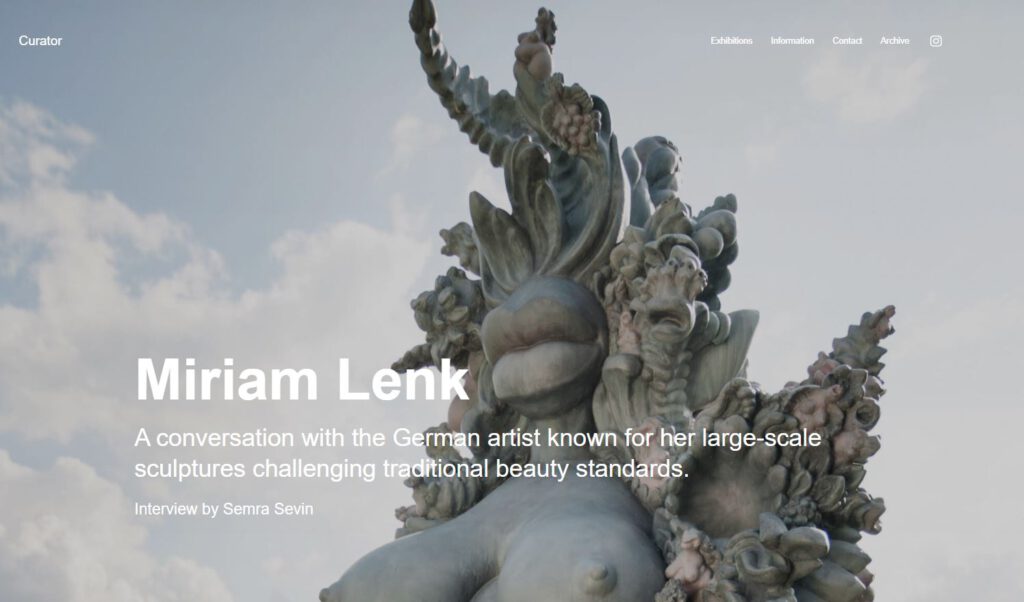 Vita
1975 Born in Constance
1994 Abitur, Monastery School of the Holy Sepulchre, Baden-Baden
1994-1997 Apprenticeship as goldsmith, technical school for glass and jewellery, Kaufbeuren
1998-2000 Studies of Literature and Media Sciences, University of Konstanz
2001- 2007 Study of Fine Arts at the University of Fine Arts Dresden
2004 Erasmus Scholarship Art in Public Space, University of Barcelona
2007 Diploma University of Fine Arts Dresden
2007-2009 master student with Prof. Kerbach, University of Fine Arts Dresden
lives and works in Berlin and Bodman
Solo exhibitions:
2023 sculpture square art karlsruhe, gallery Cyprian Brenner
2022 Meerschaum- Gewoge by Zagreus- Project Berlin
2018 Elan Vital at the Toni Merz Museum Sassbach
http://www.badische-zeitung-miriamlenk
Group exhibitions:
2023
point of view(s) view and direction Kommunale Galerie Berlin in Schloß Biesdorf
Turn of the times Contemporary Showroom Berlin
2022
200 under 2000 Contemporary Showroom Berlin
Overview#4 Contemporary Showroom Berlin
Evolving Eden in the art association Hoher Fläming Bad Belzig
& other Groupshow Kunsthalle Wilhelmshaven, Adalbertstraße 28, 26382 Wilhelmshaven curated by Maik Schierloh
Evolving Eden Kunstverein Hoher Fläming , Bad Belzig, curated by Britta Adler and Halina Hildebrand
2021
100 under 1000 Schindler Lab, Bäckerstraße 3, 14467 Potsdam curated by Vanessa Souli 2022 
Beyond Belief Haus Kunst Mitte, Heidestraße 54, 10557 Berlin https://beyondbelief-art.com/artists/
Arte Noah at the Kunsthalle Feldbach Arte Noah Kunsthalle Feldbach
COME BACK at Galerie Valentien Stuttgart curated by Hergen Wöbken galerie-valentien/come-back.html
Lusus Naturae BCMA Gallery Berlin curated by Vanessa Souli
2020
Reawakening STATION BERLIN curated by artistcurator Semra Sevin
Pit Stop Gallery KWADRAT Berlin http://www.kwadrat-berlin.com/exhibitions/boxenstopp
disturbance witch Centre for Contemporary Art, Zitadelle Spandau, curated by Alba D'Urbano and Olga Vostretsova
 https://www.zitadelle-berlin.de/ausstellungen/disturbance-witch/
Art Noon by Miriam Lenk theloversandleaders space Berlin
2019
50/50 the matter of duality Fleischmann-Haus Berlin
Benefit Art Auction of Terre des Femmes Berlin Gallery terre de femmes art auction
Chimera Art Quarter Bethanien Berlin
+ 1 @safe gallery Les Valseuses Berlin
Rencontres, Looking for Dick and Sweat Shop Berlin Show Window Berlin
2018 
Wonder Woman Art B!tch Bar Babette, Berlin 
ALL'IDEA DI QUEL METALLO Association of German Guarantee Banks, Berlin
Ecstasies Teresa Alte Münze, Berlin https://www.juliusstudio.eu/
Bitch MATERial Kunstquartier Bethanien, Berlin               
WOMEN CAN PAINT TOO! Gallery Holger John, Dresden
2017
Squishy: eels swim in snakey Juliusstrasse Berlin curated by Angels Miralda Tena squishy
2016
Under Construction Showcase Berlin https://schaufensterunderconstruction.wordpress.com/
My Myself and I Gallery 68projects Berlin 
2015 
berlinlujinberlin Aici Acolo Pop Up Gallery Cluj Romania
Proud Collector The Grand Berlin http://www.proudcollector.com
Your Identity Card Operative-technical sector in the former Stasi Berlin
2014
Drive the Change 100plus Zurich 
Nordart 2014 Artwork Carlshütte
2013
EXSTASI Operative-technical sector of the former Stasi Berlin
Party Arty Stipendiati with Jan Kage, Künstlerhaus Bethanien, Berlin
2009 
Fit for Benefitting me Wilhelm- Fraenger- Haus, Potsdam
2007 Quiao Museum of Guangzhou University, China
2003 Adonis von Zschernitz Exhibition by Yolanda Museum für Vorgeschichte Dresden
Work in public space:
2017 Miriam in LaLaLand Pop- Up Installation at Eastside international Los Angeles  
2016 Yolanda's Crossing Aquarama, Ludwigshafen
2015 Janusfee Winery Drei Herren, Weinbergstraße 34 01445 Radebeul Collection Prof. Dr Rainer Beck   
2011 Pig and Ostrich Obere Vorstadt, Albstadt
2009 Land of Cockaigne Elztalmuseum Waldkirch
2008 Yolanda, Investitionsbank Berlin IBB Bundesallee 210 Berlin